FAQ
ANSWERS? WE'VE GOT THEM.
Here are the questions we are most frequently being asked.
Frequently asked questions
PASCO
I cannot connect my PASCO Wireless Sensor to software.
---
General PASCO Wireless Troubleshooting (all platforms) 1. Make sure your computer/tablet/phone has Bluetooth 4.0 capability and Bluetooth is turned on 2. Check that your PASCO software is a current version: Capstone 1.10 or higher, SPARKvue 4.0 or higher 3. Wireless Sensor Hard Reset: Hold down the power (on/off) button for ~10 seconds. Release button. Lights will flash. Turn sensor back on. Try to pair sensor to PASCO software again. 4. Connect Wireless Sensor to PASCO software (via USB if available on sensor) to check for a firmware update. Update your sensor.
---
How many wireless sensors I can connect to Sparkvue through bluetooth?
---
There is a limited amount of band width through which the sensors can transmit data, so there is generally a limited number of paired devices that are available through the BT type connection. For our PS-3500's the limit is 3 connected sensors or interfaces, but for the native Windows BT stacks, the number can be much larger, but this would depend on the specific hardware that is used within the particular computer.
---
//code.Node (PS-3231), Bluetooth light is always on. press and hold the power button and it will go out, but when I release my finger, it will turn on again.
---
Plug the device into a dedicated USB power source, and press and hold the power button for 10 s. This should hopefully reset the device.
---
Can I set a Start Condition for PASCO sensors in SPARKvue?
---
SPARKvue does not have a Start Condition option for sensors. This is one of the more advanced methods found in Capstone.
---
How do I reset an AirLink, Wireless Sensor, or Wireless Smart Cart?
---
If you find that you have an AirLink (PS-3200) that is not responsive, you can reset it by pressing and holding the power button for 10 seconds. If you are using a rechargeable sensor, make sure the sensor has been plugged into power for 10 minutes prior to the reset. Wireless sensors, even those that do not connect to USB power, can be reset the same way.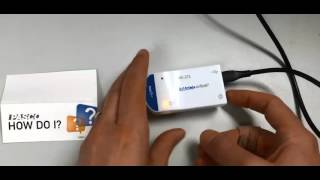 ---
Wireless sensors not detected on Windows computer with PS-3500 Adapter
---
"None of my Wireless Sensors (AirLink, Smart Cart) are detected by PASCO software on my Windows computer." When SPARKvue or PASCO Capstone is installed on a Windows computer, the drivers for the BLE (Bluetooth Low Energy) adapter PS-3500 are installed on the computer. If the PS-3500 is placed into a USB port in the Windows computer prior to the installation of SPARKvue or PASCO Capstone, Windows will install the incorrect driver. The following steps will direct Windows to the correct drivers. Make sure that the PS-3500 is connected to a USB port when following these directions. 1. Click the Windows/Start button 2. Select Control Panel 3. Select Device Manager 4. Click Ports (COM &LPT) to expand this menu item 5. Look for the the Bluegiga Bluetooth Low Energy (COM##). If you cannot find the adapter listed, it can be listed as a 6. Low Energy Device under COM/ PORT section or show up as a USB device. 7. Right click on it to select "Update Driver Software" 8. Select "Browse my computer for driver software" 9. Navigate to "C:\Program Files (x86)\PASCO scientific\Common Files\BLEDUsbDriver" and click OK 10. Click Next. Additional Bluetooth Driver Troubleshooting If the instructions contained above do not get the PS-3500 drivers installed properly, please try the following: 1. Navigate to C:\Program Files (x86)\PASCO scientific\Common Files\BLEDUsbDriver 2. Right click on the usbserial.inf file and select Install 3. Right click on the dfu.inf file and select install If you are successful in installing the drivers, but are still not able to get the Wireless Sensors to connect to SPARKvue or Capstone, try connecting the PS-3500 in a different USB port.
source: https://www.pasco.com/support/knowledge-base/33
---
My ScienceWorkshop 500 or 750 Interface Won't Connect to Capstone
---
"I am using the CI-6759A USB/Serial Adapter with a 500 interface or 750 interface and Capstone will not connect to it." Compatibility Details: CI-6759 model is NOT compatible with Capstone software. You must replace with the CI-6759A updated model. CI-6759A is compatible with Windows 7 and Windows 10, and Mac OS 10.10 or higher. PASCO Troubleshooting Steps:
Install the latest version of PASCO Capstone
Turn on the ScienceWorkshop interface.
Connect the CI-6759A adapter to a USB port and wait for Windows to detect device and install drivers.
Run Capstone
Click the

Hardware Setup

button in on the left tool palette
Click

Choose Interface

.
Select the type of ScienceWorkshop interface that you have connected to the USB-to-serial adapter.
Click

OK

.
An image of the interface should appear in the Hardware Setup window with a small green circle to the upper left corner
If you see a yellow exclamation point symbol:
Unplug and replug the CI-6759A USB-to-serial adapter from the USB port.
If your computer has both USB2 and USB3 ports, connect to a USB2 port. Occasionally USB3 ports are not compatible with the CI-6759A adapter.
Toggle power on the ScienceWorkshop interface.
Reboot the computer
If the above steps do not resolve the problem, delete the PASCO USB/serial interface from the Device Manager and reboot the computer: 1. Right click on

My Computer

. 2. Select

Properties

. 3. Select the

Hardware

tab. 4. Click the

Device Manager

button. 5. Expand the

Pasco Interface Class

category. 6. Click on

PASCO USB/Serial Converter

. 7. Press the

Delete

button. 8. A "

confirm device uninstal

l" window will appear. Click "

OK

". Do not select the checkbox "Delete the driver software for this device" 9. Disconnect the CI-6759A and reboot the computer when prompted. 10. When the computer is ready, connect the CI-6759A and wait for Windows to recognize the device and install drivers.

If using a 750 interface, this article only applies to 750 interfaces connecting through the CI-6759A USB/Serial Converter. If your 750 interface has a USB symbol on the front this article does not apply.

Source: https://www.pasco.com/support/knowledge-base/29
---
How do I quickly share my current SPARKvue file on a mobile device, such as phone or tablet?
---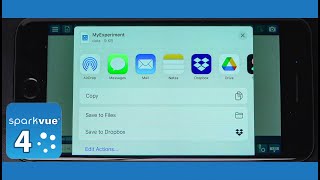 ---
How do I calibrate a pH sensor within SPARKvue 4.0 or beyond?
---
To calibrate a pH electrode you will need two different value pH buffer solutions. Make sure to rinse the electode and carefully blot dry to prevent transferring solution between the buffer standards or diluting the standards with distilled water that clings to the electrode following rinsing.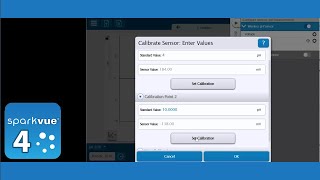 ---
How do I postpone the start of remote data logging with a Wireless Sensor and SPARKvue?
---
How do I postpone the start of remote data logging with a Wireless Sensor and SPARKvue? This is useful, for example, if you set up remote logging at a computer inside, but don't want to begin recording data on the sensor until you can bring it outside. This option was added to SPARKvue version 4.6.0, released in April 2021. Need more help with SPARKvue? Please visit our online help at www.pasco.com/help/sparkvue.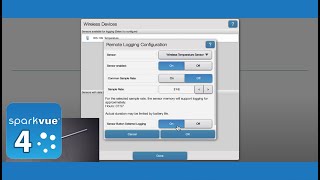 ---
---
Matrix
---